Research Areas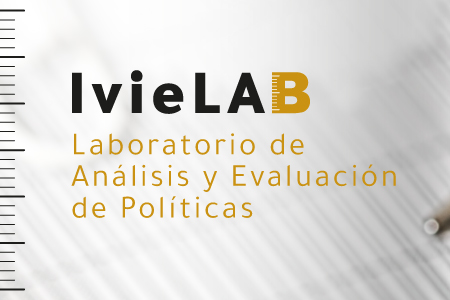 IvieLAB, Laboratory for the Analysis and Evaluation of Public Policy
Project start date: 2018
Project end date: research in progress
Funding institution: Generalitat Valenciana
The Ivie, along with the Valencian Regional Government, has created the project called IvieLAB (Laboratory for the Analysis and Evaluation of Public Policy) to study the actions of public bodies in different areas.IvieLAB aims to promote debate and to design new evaluation methods and tools (e.g., databanks and indicators) to raise awareness of public policy issues in Spain. The new evaluation methods will initially be applied on an experimental basis within the Valencian public administration. Through the IvieLAB project, Ivie strives to build on both its track record and its potential to develop new ways to analyze and evaluate public policies. IvieLAB also aims to help solve problems addressed in policy research, especially those regarding the availability of information and the construction of indicators. IvieLAB's main tasks will be as follows:
To design and monitor the observatories of key social and economic problems.
To monitor specialist literature and keep track of international policy evaluation initiatives.
To investigate analytical and evaluation techniques and to construct and analyze outcome and impact indicators.
To develop databases and indicators on the basis of which to apply developed techniques in different fields.
To produce methodological guides and run pilot studies aimed at adapting analyses and evaluations to management practices.
To disseminate results among potential users.
To promote cooperation among Spanish institutions specializing in public policy evaluation.
IvieLAB's activities include a series of lectures and seminars on the Spanish welfare state that consider issues such as financial sustainability and the challenges of inequality and human security. The series of lectures and seminars, Evaluation of the sustainability of welfare policies in the 21st century, began with the lecture by Eduardo Bandrés, director of Public Economy and Welfare at Funcas and Professor at the University of Zaragoza, on May 16, 2018 at the Bancaja Foundation in Valencia. The lecture discussed two aspects: income distribution through the tax-transfer system to reduce inequality and the economic security that the welfare state should guarantee against the circumstantial risks of unemployment, illness, disability and old age.
IvieLAB activities and documents
2023
Reports
2022
Reports
2021
Reports:
2020
Projects:
Reports:
Lectures:
2019
Lectures 2019:
Documents 2019:
2018
Lectures and seminars 2018:
Database: The development and dissemination of the database on access to banking services in Spain, created within the framework of the IvieLAB project, offers information on the number of municipalities that do not have a bank branch in their town or village due to cutbacks in the banking sector.  This database gives a comparative picture of financial accessibility in the provinces and autonomous communities of Spain. Documents 2018: