Publications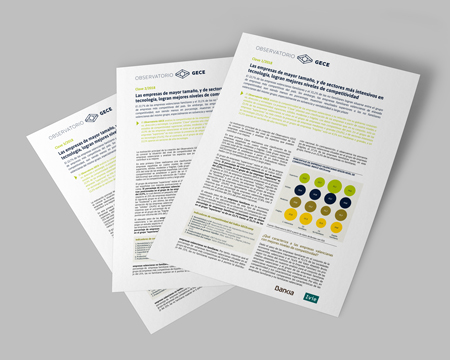 Claves GECE
The Corporate Governance, Strategy and Competitiveness Observatory (GECE Observatory) is a project launched by Bankia, in collaboration with the Ivie, with the goal of analyzing the competitiveness of Valencian firms over time and its relationship with internal competitiveness drivers.
One of the GECE Observatory's initiatives is the launch of the Claves de competitividad ("Keys to Competitiveness"), a collection of easy to read, visually attractive summaries targeted at the general public and the media, aimed at publicizing the Observatory's empirical findings.
Each document in the Claves de competitividad collection gives an overview of a particular aspect of the competitiveness of Valencian firms, based on the objective analyses carried out by the GECE Observatory. The aim is to encourage companies and institutions to reflect on the issues they must address in order to improve competitiveness and ensure long-term success.
This collection supplements the Observatory's reports, which offer a more in-depth analysis of companies' competitive position and associated drivers.
RECENT ISSUES