Seminars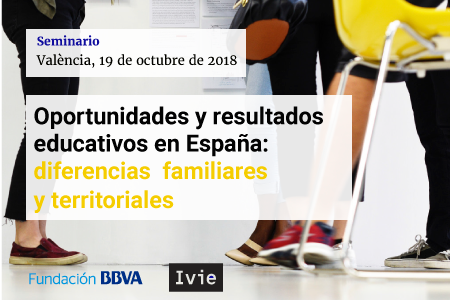 Oportunidades y resultados educativos en España: diferencias familiares y territoriales
València, 19 October 2018
ADEIT – Fundació Universitat-Empresa de València
Plaça de la Mare de Déu de la Pau, 3
46001 València
OBJECTIVES
The growing importance of education for personal and professional development has intensified the attention paid by society to educational institutions and their results, raising new questions regarding the effectiveness, efficacy and equity of public and private investment in education.
The general perspective is that there is much room for improvement in the Spanish education system. The impact of the recent great recession on public and family educational spending has raised new questions, especially in relation to guaranteeing the sustainability of educational spending.
The adequacy of public resources earmarked for education is under debate in Spain.  In reality, however, spending per student, which is the responsibility of the regional governments, varies greatly among the Spanish regions.  Even greater is the difference in spending by families, which depends on the educational and income level of the parents and the type of school chosen for their children.  All these factors affect a student's environment, their learning and the resources devoted to their education.  In view of the results, it is clear that the regional education systems differ in terms of effectiveness, efficacy and equal opportunities.
Analysis of these problems has substantially improved in the last decade with the growing public availability of information and of new studies. Recent developments include a report on regional differences in education, titled Diferencias educativas regionales 2000-2016. Condicionantes y resultados, and  the Education Accounts database, which has been updated to include data to 2016. On the basis of this new information, the seminar aims to analyze educational opportunities and outcomes, and also the wealth of experiences resulting from decentralization of functions to the regions.  With this in mind, a panel of experts will analyze and discuss questions in three areas:
How much public and private spending is earmarked for education and how has it changed over time? Do differences exist in per-student spending among regions and among families that call into question equity in educational opportunities in Spain?
What educational outcome indicators are available and are they adequate? What can be said regarding their recent evolution? What are the reasons behind differences in outcomes among regions and among students from different academic and family backgrounds? How does this influence spending effectiveness, efficacy and equal opportunities?
What is achieved through the investments made in learning? What changes are needed in educational strategies and management to improve student outcomes? Are improvements needed in financing or in other areas?
The aim of the seminar is to enrich reflection and improve diagnoses in these areas by analyzing the determinants of effectiveness, efficacy and equity in Spanish educational systems, learning from the different regional experiences and proposing ways to improve.
The seminar is aimed at decision-makers regarding strategies, programs and the functioning of public and private educational centers at all levels, at education and training researchers and analysts, and at teachers, students and the media.
PROGRAM
9:00 – 9:30
Apertura y presentación del seminario
Francisco Pérez, Universitat de València e Ivie
9: 30 – 11:30
Primer panel: Recursos, oportunidades y resultados educativos
Un panorama de los sistemas educativos regionales
Lorenzo Serrano, Universitat de València e Ivie

Gasto público y privado en educación: diferencias regionales y familiares
Resultados educativos, eficiencia y equidad, según PISA 2015
11:30 – 12:00
12:00 – 14:00
Segundo panel: ¿Cómo mejorar la eficacia, eficiencia y equidad  de la educación?
Estrategias docentes y resultados educativos
María Gil, Universidad Autónoma de Madrid

Una nueva agenda para la gestión de la educación
Lucas Gortázar, Banco Mundial / ISEAK

Políticas de mejora de los resultados educativos: ¿qué dice la evidencia?
14:00 – 14:15
COORDINATOR
Francisco Pérez
Catedrático de Fundamentos del Análisis Económico en la Universitat de València y director de investigación del Ivie
PARTICIPANTS
Jorge Calero
Catedrático de Economía Aplicada de la Universitat de Barcelona
María Gil
Profesora Contratada Doctora de la Universidad Autónoma de Madrid
Lucas Gortázar
Especialista en Educación (Banco Mundial / ISEAK)
Laura Hernández
Técnica de investigación del Ivie
Silvia Mollá
Técnica de investigación del Ivie
Lorenzo Serrano
Catedrático de Análisis Económico de la Universitat de València y profesor investigador del Ivie