News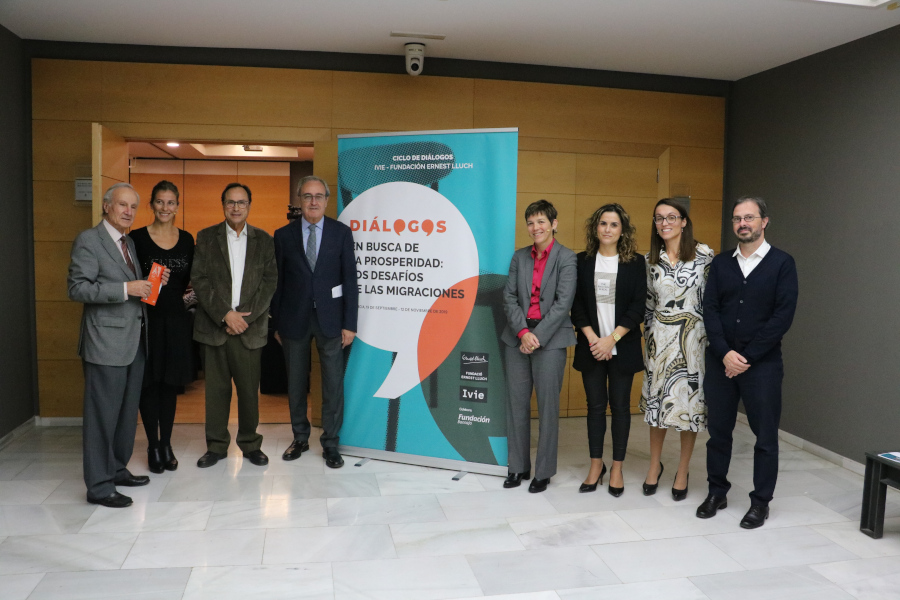 Talent improves productivity and creates quality employment, but public policies are needed to attract and retain it
The debate between Ana Revenga and Teresa Coelho analyzed international and territorial competition for talent in the last of the five-part series of dialogues on migration organized by the Ernest Lluch Foundation and the Ivie
The Ernest Lluch Foundation and the Ivie, in collaboration with the Bancaja Foundation, held the last dialogue of the five-part series "The quest for prosperity: challenges of migration" in Valencia. The debate between Ana Revenga (president of the Board of ISEAK) and Teresa Coelho (KPMG HR Leader for Spain and Executive Committee Member) focused on the international competition for talent, considering its impact on people that migrate in search of work and the impact on the destination country and country of origin.
Both agreed that the mobility of highly trained workers is very positive since their talent improves productivity and creates quality jobs. According to Revenga, "10% of the world's patents are developed by people who work in a country that is not their country of origin". She, therefore, stressed the need for public policies to attract talent, but also for compensation for countries affected by brain drain. While the mobility of people seeking better employment opportunities has not changed much in recent years, the profile of migrants has, as the number of better-qualified people has tended to increase. In addition, while there is great diversity in countries of origin, the countries that attract talent continue to be mainly four: USA, Canada, Australia and the UK. Overall, two-thirds of university students who leave their country of origin move to an OECD country.
In Spain, according to Coelho, the quality of the talent pool has greatly improved in recent years, especially in terms of English language skills. However, she emphasized the need to improve technological skills and to develop cross-cutting skills in attitudinal aspects related to business practice, as "there has to be better business-university connectedness".
Revenga further explained that Spain is not particularly attractive for talent, due to the lack of incentives for research: "Although there are some areas that do attract talent, things are especially difficult for regions with little productive fabric or that are economically underdeveloped."
Both experts dedicated part of the debate to the importance of promoting equal opportunities as a basis for enhancing talent. "More than half of migrants with higher education are women and this contributes to their empowerment, but they need to be guaranteed equal opportunities before they leave their country to find a job in another country that reflects their qualifications", clarified Revenga.
Coelho also stated that the current problem is not so much a lack of talent, but of locating it. She also mentioned the importance of not overlooking older people and lifelong learning for them, given the talent and experience they can contribute.
Dialogue 5, titled International competition for talent: territorial risks and opportunities, was the last of the 2019 Ernest Lluch Foundation-Ivie series, run in collaboration with the Bancaja Foundation in Valencia. Francisco Pérez, research director of Ivie, and Joan Majó, president of the Ernest Lluch Foundation, closed the series, announcing that a new series will be offered in 2020. While no theme has yet been decided, the aim will be to encourage debate on ways to counteract inequalities in society.
13 November 2019
GALLERY