News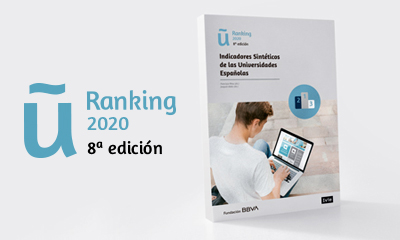 Public universities take the lead in knowledge transfer, while private universities top the ranking in teaching and employability
Pompeu Fabra University continues to stand in first place in overall performance among Spanish universities in the new edition of U-Ranking 2020
The Spanish University System (SUE) is characterized by its diversity in teaching results and research and innovation performance among universities. The 2020 edition of U-Ranking of Spanish universities, developed by the BBVA Foundation and the Ivie, considers this diversity by constructing a synthetic index that classifies universities according to their overall performance. It also draws up a ranking of teaching performance and another one of research and innovation activity. According to the results, public universities show a higher performance in research than private universities and also take the lead in overall performance, while private universities stand out in terms of teaching results.
For another year running, the Pompeu Fabra University stands in first place in overall performance, followed in second place by the Carlos III University of Madrid, the Autonomous University of Barcelona and the Polytechnic Universities of Catalonia and Valencia.  The top ten universities in research and innovation performance are public, while five of the eight universities at the top of the teaching ranking are private.
The new edition of U-Ranking also includes a detailed study of graduate employability and labor market results by areas of study and university. In this aspect, the results vary widely, with the type of degree pursued as the most important indicator of employability. However, whether a university is public or private also plays an important role at preparing a student for the labor market. In fact, graduates of private universities present better rates of affiliation to the Spanish Social Security system, a higher average salary for the National Insurance contribution calculation and a greater percentage of graduates working according to their educational level.
Furthermore, private universities surpass public ones in employability in all areas of study, except for Health Sciences. The advantages are important, especially, in Social and Legal Sciences, which attracts the most students and in which private universities concentrate 62% of their graduates. However, the 5 degrees with highest employability rates are Medicine, Podiatry, Optics and Optometry, Pharmacy and Nursing, all belonging to the area of Health, in which public universities have noticeably higher results. The ranking of employability by degree continues up to number 15 with engineering related studies.  On the opposite end, closing the classification by degrees are those in Tourism, Management and Public Administration and Fine Arts.
The 8th edition of the U-Ranking has been directed by University of Valencia Professors Francisco Pérez, (Ivie Research Director) and Joaquín Aldás (Ivie Research Professor), in collaboration with Francisco Goerlich (Professor at the University of Valencia and Ivie Research Professor) and Ivie technicians, Rodrigo Aragón, Inés Rosell and Irene Zaera.  U-Ranking 2020 includes methodological improvements that confirm the robustness of its results and allow to increase the number of private universities analyzed. This year's edition analyzes the performance of 70 Spanish universities (48 public and 22 private), by using 20 different indicators to construct various synthetic indices.
30 June 2020