News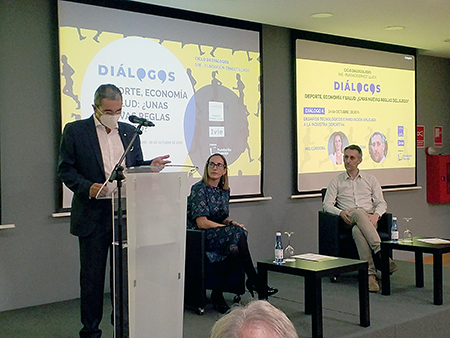 New technologies will mark the future of mass gathering sports with more digital interactivity and less in person participation
Iris Cordoba, CEO of GSIC-Microsoft, and David Rosa, Deputy Technical Director of the Center Las Naves, explain how the pandemic has accelerated the digital transformation of the sports world in the fourth dialogue of the series "Sports, Economy and Health"
"Larger stadiums will no longer be needed because new technologies allow people to enjoy the excitement of sports events from the comfort of their own home. In addition, the social and environmental impact involved in mobilizing thousands of people has proven to be excessive, and alternatives, such as, virtual and augmented reality, streaming, etc., are even better than some physical venues". In this way, Iris Cordoba, CEO of GSIC-Microsoft, and David Rosa, Deputy Technical Director of the Center Las Naves, explain how technological innovation has transformed the way people watch traditional sports events making them more interactive and available from one's home.
The speakers took part in the fourth dialogue of the series "Sports, Economy and Health: Changing the Rules of the Game", organized by the Ernest Lluch Foundation and the Ivie, in collaboration with the Bancaja Foundation. According to the experts, the pandemic has increased the use of technologies that already existed, but were not in massive demand, by not only bringing sports events to the comfort of one's home, but also by ensuring people's safety through thermography or facial biometry, instruments that were previously used by athletes to prevent injuries, but are now  used to perform temperature checks and to measure social distance between individuals.
In addition, new technologies allow obtaining real-time information from consumers to offer them specific, customized contents.  Thus, sponsors can attain a higher return on their investment. "Sports are now entertainment, you no longer compete with rival teams or a specific country/city, you compete to win the consumers' leisure time," explains Iris Córdoba. For David Rosa, teams and sponsors who understand the power of data will be able to monetize sports events.
In terms of the sports business, the dialogue also touched on the topic of video games or e-sports as a phenomenon with a great projection which will continue to grow in development and use. In addition to the income obtained by the developers of these types of games or the players who participate in paid exhibitions, e-games also offer opportunities to sponsors who are interested in new platforms.
Overall, both speakers insisted on the need to promote and encourage local startups and entrepreneurs to develop new technologies based on sports. In this sense, they highlighted that one of the challenges that sports teams face is the difficulty in finding experts in digital transformation.
Finally, the dialogue referred to technology applied to the practice of sports by amateurs. In David Roda's opinion, technology has made the practice of sports accessible to everyone because users can now use tools that were previously only available to elite sport players, i.e., step pedometer, heart rate monitor, custom-made insoles, etc.
15 October 2020
GALLERY