News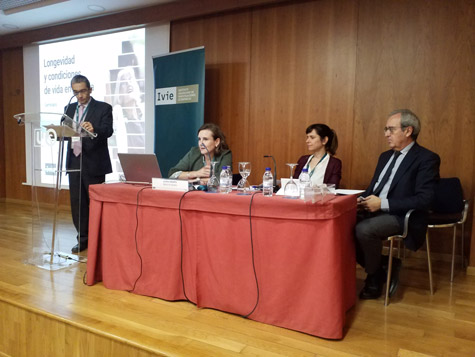 Growing longevity poses economic and social challenges for Spain that require changes in its public policies
The BBVA Foundation-Ivie seminar analyzed issues related to older people in Spain such as the features of their households, their consumption patterns and spending, as well as their overall living conditions after retirement
Growing longevity, or the duration of human life beyond expected, poses economic and social challenges for Spain, as discussed at the Ivie-BBVA Foundation seminar held in Valencia on longevity and living conditions in Spain. The seminar was organized in two parts that analyzed firstly, the socioeconomic features of older people's households, and secondly, their overall living conditions.
In the presentation of the seminar, Joaquín Maudos, Ivie deputy director, highlighted that, although increased public spending on health, pensions and dependency may worsen Spain's economic deficit,  it also creates new market services for the growing population of elderly people in Spain.
The first part of the seminar was given by Francisco Pérez (Ivie research director), Mercedes Ayuso (professor of actuarial science at the University of Barcelona) and Laura Crespo (head of the Bank of Spain's Spanish Survey of Household Finances unit). Francisco Pérez underlined that pensions, as the most protected wellbeing pillar during the crisis, are evidence of the important demographic and political weight of pensioners in Spain. Pérez also analyzed the type of household supported by older people, finding that these are usually small so less likely to be able to take advantage of economies of scale. He also explained that the transition to retirement directly affects a person's spending due to the increase in leisure time and health complications, while underlining important differences depending on the age group, specifically, 55-65 years, 65-75 years and 75+ years. He also mentioned a low level of technological skills; a third of people aged over 65 years have never used the internet and 80% have only basic digital skills.
Mercedes Ayuso focused on the difficulties to create a pension system that meets the principles of sustainability, sufficiency, equity and efficiency. The situation represents a major economic challenge for Spain, since the number of people aged over 65 years, at 9 million in 2018, is expected to increase to 15 million by 2060. She warned of the risk of underestimating life expectancy, as this may entail a 10% increase in the estimated future pensions payout. Laura Crespo, in turn, explained how the Bank of Spain's Survey of Household Finances is conducted, confirming that household wealth, on average, consists of 80% real assets and 20% financial assets.
The second part of the seminar, which focused more on the quality of life of older people rather than their economic situation, was given by Aida Solé-Auró (professor of political and social science at Pompeu Fabra University), Juan Oliva (professor of Economic Analysis and researcher in the Research Seminar on Economics and Health at the University of Castilla-La Mancha) and Alba Catalán (Ivie economist). Aida Solé-Auró stressed the importance of promoting "active aging" so that people reach old age with a suitable degree of emotional and physical wellbeing. Juan Oliva pointed out that, despite what many people think, what really increases public spending on healthcare is the use of new medical technologies and a person's innate health, not their age.
The closing presentation, by Alba Catalán, was dedicated to Spain's dependency system, especially the need to reform it, since currently, it is mainly non-compensated family members who assume the dependency burden. Spending on long-term care in Spain represents 0.8% of GDP, but, according to the European Commission, that figure will likely increase to 1.1%-1.4% by 2030 and 2%-5,5% by 2070. Alba Catalán showed data that confirmed that the number of dependent people in Spain is, in fact, 35% more than those recognized by the System for Personal Autonomy and Care of Dependent Adults (SAAD).
21 November 2019
GALLERY