News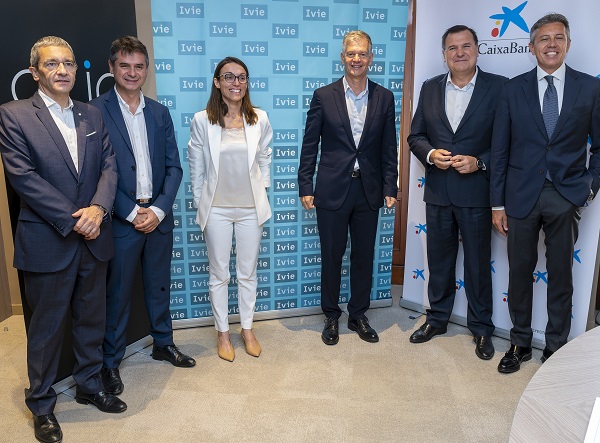 CaixaBank and the Ivie sign a new collaboration agreement to promote the competitiveness of Valencian firms through the GECE Observatory
For another 12-months running, this project will continue to analyze the competitiveness of Valencian firms over time
CaixaBank and Ivie have once again renewed their collaboration agreement to continue the research work carried out through the Corporate Governance, Strategy and Competitiveness (GECE) Observatory  in the Valencian Community. For another 12-months running, this project will analyze the competitiveness of Valencian firms over time and the factors that can contribute to it.
The two parties involved, CaixaBank represented by Xicu Costa (Regional Director in the Valencian Region), Felipe Pulido (Commercial Director of Business Banking) and Vicente Castellano (Director of Risk Management in the Region); and on behalf of the Ivie, Pilar Choren (Managing Director), Joaquín Maudos (Deputy Director), and Alejandro Escribá (Coordinator of the GECE Observatory), signed this new agreement, which means the continuance of the Observatory until June 2023.
During the meeting, Costa highlighted "the importance for CaixaBank of collaborating with initiatives such as the one developed by the GECE Observatory to support Valencian firms and improve their competitiveness". "The Observatory allows us to dynamically study the effect that changes in business characteristics, strategies and governing and management bodies can have on competitiveness," he added.
While, Ivie's Managing Director, Pilar Chorén, said she is convinced that "with the support of CaixaBank, the GECE Observatory will continue to grow, adding more companies to the Observatory Panel, which will improve the analysis of the competitiveness of the productive fabric of the Valencian Region".
In this new stage of the 'GECE Observatory', three reports will be prepared, which will focus on the three key areas of the project: governance, strategy and competitiveness of Valencian firms. Along with these documents, three dissemination workshops will be organized to disseminate the main results and thus contribute to helping Valencian firms.
At the same time, all companies collaborating with the GECE Observatory, which contribute with useful information by means of the surveys they complete, will receive periodic customized reports, in which they can compare their performance with other benchmark companies in their sector, both in the Valencian Community and in the rest of Spain.
26 July 2022