News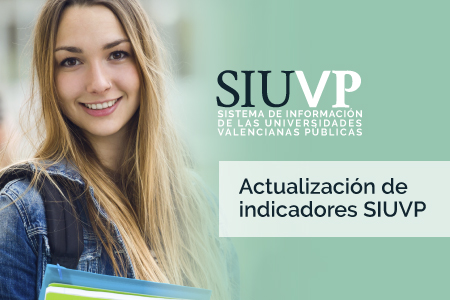 One in four students undertaking a PhD degree in Valencian public universities are foreign students
The SIUVP website has just updated its indicators, now offering more than 265,000 individual data on the Valencian public university system
The five public universities of the Valencian Community —University of Valencia, University of Alicante, Polytechnic University of Valencia, Jaume I University and Miguel Hernández University— have a total of 127,628 students, representing 84% of the total number of on-site university students in the region. Specifically, 9,592 are studying a PhD degree, 17,234 a master's degree and the remaining majority are undergraduates (79%).
Recently, the overall number of international students studying in Valencian public universities has increased, but especially those undertaking doctorate degrees, of which 25% of the total are foreign. In addition, international students account for 15% of total students enrolled in master's degrees and 4,8% in bachelor's degrees, according to the information presented in the SIUVP (Valencian Public University System of Information) website, which has been recently updated, now offering over 265,000 individual data on the Valencian public universities.
Regarding gender, women represent 54.5% of the students enrolled, outnumbering their male peer in the three types of degrees offered: doctorate, masters and bachelors. The difference in gender is even greater when considering the total number of students who graduate, of which during the 2017/2018 academic year, 58% were women.
In addition, the five Valencian public universities offered more degrees during the 2017/2018 academic year than in the previous year, increasing from 325 to 334 master's degrees and from 197 to 206 bachelor's degrees.
The 6th update of the SIUVP website also includes newly updated data for 38 of its indicators related to the academic performance of students, internationalization, human resources, research and data tech transfer.
The website provides information for each indicator (available for download in CSV format) with the following details:
Universities
Branches of learning
PDI categories
Areas of knowledge
The information contained in the SIUVP database is a result of the joint work of the Valencian public universities and the Ivie, ranging from academic issues related to supply and demand of degrees, to more specific data on resources and economic results of each university's activity. For a list of all the indicators, please visit the project's website www.siuvp.es
17 June 2019