News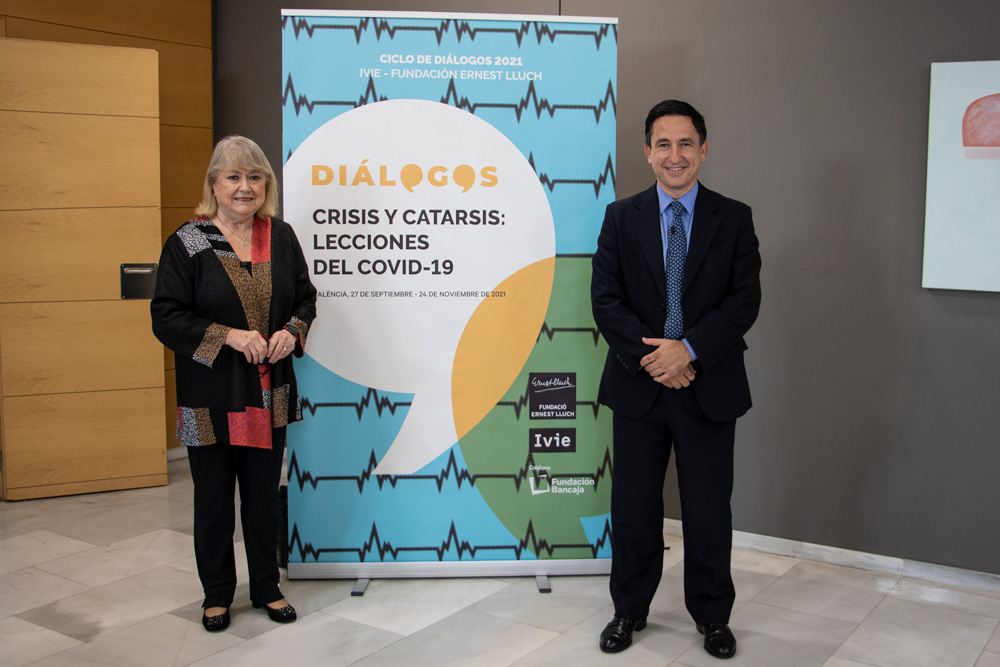 Susana Malcorra: "No se pueden prevenir todas las crisis, pero sí debería haber una estructura preparada para manejarlas ágilmente cuando llegan"
El segundo diálogo del ciclo Crisis y catarsis: lecciones del COVID-19 ha mostrado hoy un debate sobre la gestión de la crisis del COVID-19, que han protagonizado Enrique Feás, investigador principal del Real Instituto Elcano; y Susana Malcorra, decana del IE School of Global and Public Affairs. Ambos ponentes han coincidido en afirmar que ningún país ha hecho las cosas de manera excelente y que cada uno ha actuado mejor o peor en según qué fases y, según sus recursos. Mientras que China consiguió frenar el avance de los contagios mucho mejor que Europa, Estados Unidos y la UE han destacado en la gestión del proceso de vacunación. "Todos han cometido errores, todos han pecado de optimismo", ha afirmado Enrique Feás.
En cualquier caso, ambos expertos han coincidido en demandar una respuesta global a una crisis que también es mundial. "No se puede responder a una pandemia con condiciones diferentes en cada país. No tenemos los mecanismos preparados para una crisis de índole sanitaria, como se ha visto", ha explicado Malcorra.
En su opinión, "hay una visión negativa de la globalización, pero prepararse y realizar inversiones solo a nivel local para una crisis de este tipo es imposible". Por eso, los ponentes han insistido en que queda una tarea muy importante que hacer por parte de los liderazgos públicos y privados para transmitir que este es un mundo de interdependencia total, por ejemplo, en el cambio climático, y que las crisis mundiales hay que abordarlas desde la gestión global.
Además, aunque han reconocido que no se puede estar preparado para todas las crisis, sí que es exigible que, al menos, todos los países dispongan de gabinetes de crisis, con una preparación previa, para actuar de forma rápida ante la llegada de una crisis. "Es sorprendente en esta realidad del COVID-19, que en la mayoría de países no había una preparación para afrontarla y no hay manera de manejar una crisis si no se concentran los mecanismos de decisión", afirmó Susana Malcorra.
En este mismo sentido, advirtió que "solo somos capaces de reaccionar y de hacerlo bien si estamos contra la pared y eso es muy peligroso porque el riesgo de que las decisiones no lleguen a tiempo es mayor. Hay que convencer a todos los miembros de la UE de que las decisiones hay que tomarlas antes y estar preparado para tomarlas en situación de crisis".
Por su parte, Enrique alertó también del peligro que supone que la eficiencia en la gestión de la pandemia de modelos alternativos de estado más autoritarios, como China, puedan convertirse en referente de otros países emergentes. "La pandemia ha contribuido a relativizar la democracia y se han fortalecido algunos modelo autoritarios", ha explicado. El investigador del Real Instituto Elcano también se ha mostrado preocupado porque haya países perdedores y ganadores en esta crisis y ha criticado la gestión internacional en la distribución de las vacunas. Susana Malcorra ha explicado que ante una pandemia global, lo que menos hemos hecho es responder globalmente a la pandemia. "Se está hablando de tercera vacuna, cuando hay un elevado porcentaje de personas que no tiene ninguna. Si este virus se transforma y las vacunas se vuelven inocuas estamos en peligro. Solo se puede combatir si el 75% de la población esté vacunada".
Para ambos ponentes, el COVID-19 es una llamada a la humildad y nos da lecciones para la gestión de crisis futuras, como la necesidad de crear mecanismos que se pongan en marcha mucho más rápido. Además, hay que entender que la optimización de las cadenas de valor a partir del coste no es suficiente. Todo tiene que tener mecanismos alternativos, no se puede depender solo de un país. Otra lección es que en los momentos de crisis, la intervención de los mecanismo del estado y supraestado (UE) son fundamentales.
1 October 2021
GALLERY