News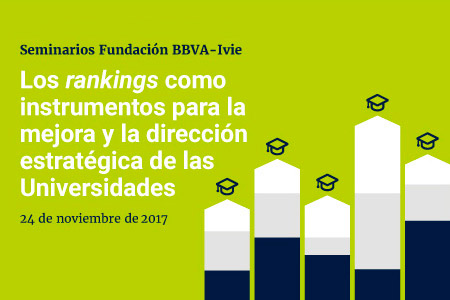 The experts discussed the role of rankings as tools to improve universities
The seminar, organized by the BBVA Foundation and Ivie, gathered together representatives of more than 30 Spanish universities
The seminar Los rankings como instrumentos para la mejora y la dirección estratégica de las universidades, organized by the BBVA Foundation and Ivie gathered nearly 100 people interested in the possibility of using rankings as a tool to improve the management and performance of universities. In total, representatives of more than 30 Spanish universities attended the seminar.
In his opening speech, Ivie Research Director, Francisco Pérez, highlighted the importance of universities in adapting and integrating in the knowledge economy. In addition, he stressed that, although Spain is improving in capital endowment, it faces difficulties to efficiently use that capital. Therefore, it is important for universities to contribute optimally to human capital formation.
With this objective in mind, the experts at the seminar discussed the role of rankings in improving the strategic planning of universities. Joaquín Aldás, Professor at the Universitat de València and Ivie Researcher, centered his presentation on the advantages of analyzing universities by classifying them into homogeneous groups in order to compare universities that are similar. This procedure is part of a project developed jointly by the BBVA Foundation and Ivie which results in the annual publication of the U-Ranking report. This project features seven strategic groups that cluster universities into categories depending on their similarities.
During the seminar, Ivie Researcher, Alejandro Escribá gave a preview of the main conclusions of a forthcoming study that complements the project on strategic groups which analyzes the characteristics of universities with examples of good practices in each group, identifying universities that serve as benchmarks to help other universities improve their results.
In addition, the seminar addressed the practicality of introducing data on graduate employability in the rankings. During the second part of the seminar, in which this issue was discussed, the following speakers participated: Lorenzo Serrano and José María Peiró, Professors at the Universitat de València and Ivie Researcher; Marti Casadesus, Professor at the Universitat de Girona; and José Millet Roig, Professor of Universitat Politècnica de València.
November 24th, 2017
GALLERY