News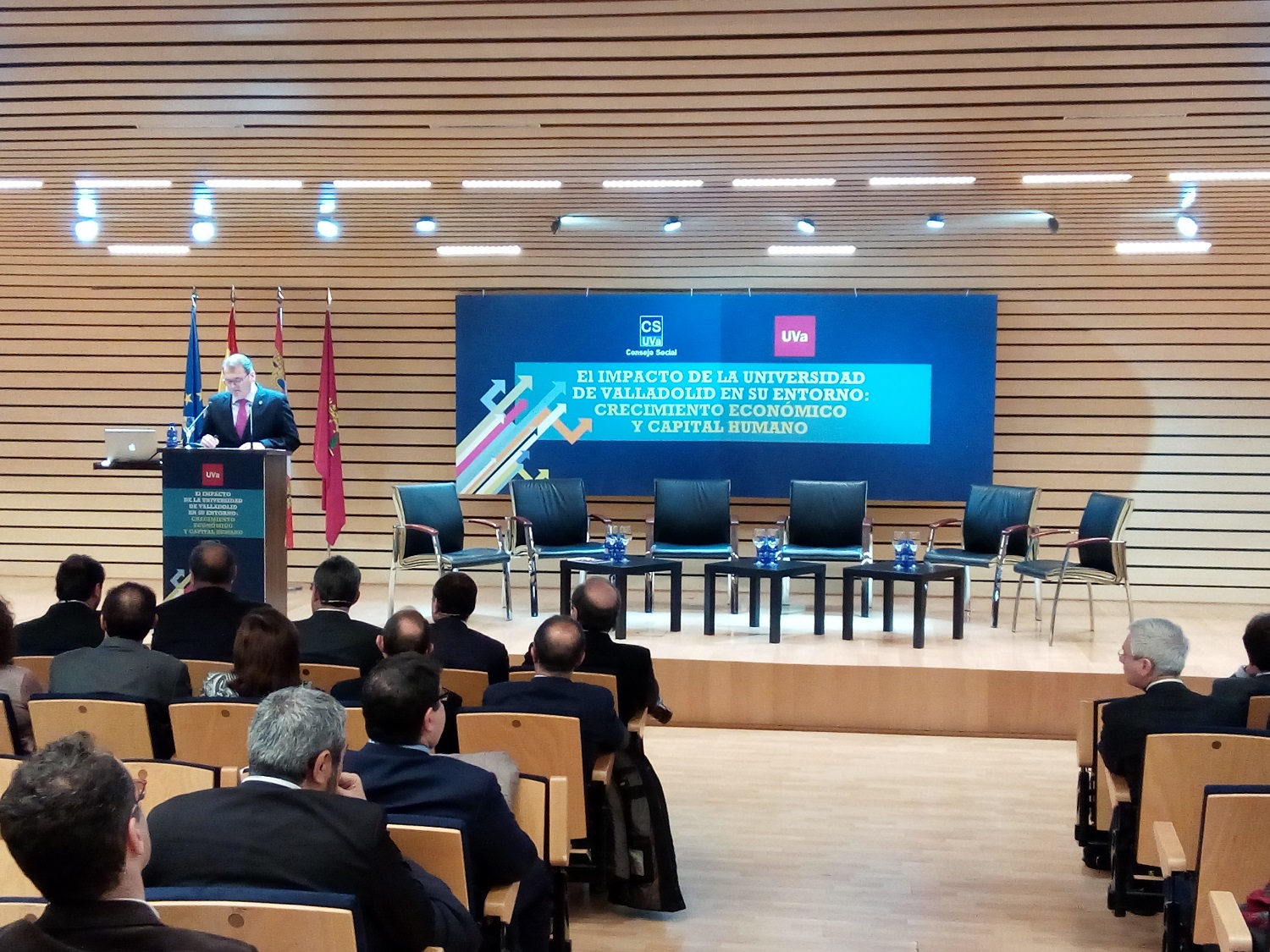 The University of Valladolid represents 0.93% of the GDP in the region of Castile and Leon
Presentation of the report analyzing the socio-economic contribution of the University of Valladolid
Activity deriving from the presence of the University of Valladolid generates 500.2 million euros in revenue and 11,059 jobs in the Spanish region of Castile and Leon, representing 0.93% of the autonomous region's GDP and 1.16% of its employment. These are just some of the results from the report La contribución socieconómica de la Universidad de Valladolid, (The socio-economic contribution of the University of Valladolid) produced by the Ivie for the University's Board of Trustees.
The study carried out by the Ivie researchers José Manuel Pastor, Lorenzo Serrano and Joaquín Aldás and Ivie technical staff Ángel Soler and Irene Zaera calculates the total expenditure by agents related to the university's activities at 308.1 million euros. Every euro of public expenditure used to finance the University of Valladolid is transformed in an increase of €6.8 in the region's total production, and for every million euros the public administration invests in the institution, 86.2 jobs are created.
In addition, the University of Valladolid indirectly contributes to increased tax revenue from IRPF (tax deducted at source) and VAT in Castile and Leon totaling 354 million euros per year. This figure represents a return to society, in the form of additional tax revenue, of 2.8 euros for each euro invested by the public administration.
The report, presented at the Valladolid Trade Fair, analyses the University's contribution to employment and technological capital. In the case of employment, the report shows that graduates from the University of Valladolid accounted for an increase of 2.8% in the region's employment rate and a 3% reduction in unemployment.
In addition, the University is responsible for generating 11.3% of Castile and Leon's technological capital. The institution has increased its output of patents tenfold since 2005 and now produces 43.8% of the patents approved by the region's public universities. It also accounts for 66% of R&D and consultancy contracts in the region.
16 March 2018
GALLERY