News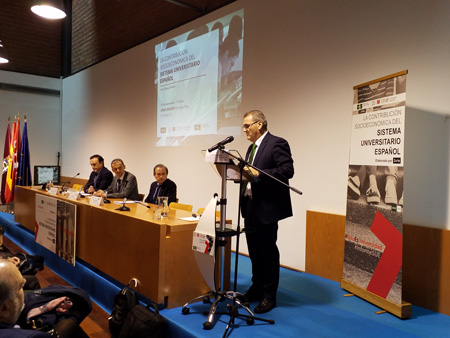 Spain's universities return 4.3 euros to society for each euro received in public funding
CRUE and CCS present the report developed by the Ivie "La contribución socioeconómica del Sistema Universitario Español (SUE)"
The report La contribución socioeconómica del Sistema Universitario Español (SUE) (The social and economic contribution of the Spanish University System) developed by the Ivie for CRUE Universidades Españolas (Conference of Rectors of Spanish Universities) and CCS (Social Council Conference) presents the economic impact of the Spanish universities in areas such as income, employment, human capital and national growth, as well as the social impact they have on individuals and society as a whole.
According to the report, the short-term economic impact of the Spanish universities is derived from spending made by agents related to their activity, amounting to 15,991 million euros per year. The universities are responsible for more than half of this expenditure (61.7%), followed by students (26.9%). The rest corresponds to spending made by visitors (9.6%) and people attending conferences (1.8%). The Spanish University System's core activity and other activities related to the universities have generated 49,671 million euros in production, 24,707 million in income and 519,860 jobs in Spain. These figures are equivalent to 2.12% GDP and 2.56% employment in Spain, as explained by the director of the study and Ivie research professor, José Manuel Pastor.
The long-term contribution of Spanish universities comes from the human capital they produce and their future activity. The average graduate is more likely to be employed than people with lower education levels and earnings among graduates are 58.9% higher than the national average. In this way, the SUE directly increases Spain's activity rate by 1.3 percentage points and reduces its unemployment rate by 0.7 points. In absolute terms, were it not for the contribution of universities, the active population in Spain would be reduced by 489,000 persons and the employed population by 658,000.
The report also notes that university graduates pay more taxes throughout their lifetime since they have better jobs and higher wages. Thus, the SUE indirectly adds 25.774 million euros to annual tax revenues. Therefore, the SUE returns, through income and value-added taxes paid by its alumni, 4.3 euros to society for each euro in funding received from the public administration, with an average annual tax return rate of 14.3% per degree.
In addition to economic contributions, the study highlights the SUE's role as a social elevator for its alumni by improving their employment opportunities and allowing them to achieve a better socio-economic status than their parents. Moreover, universities contribute to reducing gender inequalities and have a positive influence on their students' personalities, for instance, increasing their social participation, interest in culture, environmental awareness and making them more altruistic.
18 December 2019
GALLERY