News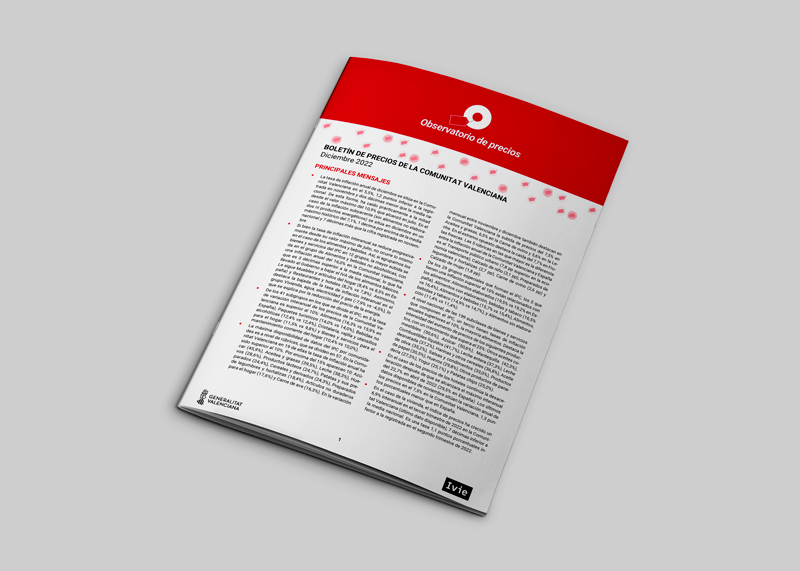 Inflation in the Valencian Community drops to 5.5% in December, half of the peak reached in July
The annual inflation rate dropped to 5.5% in December, practically half the peak rate recorded in July (10.9%). It is also 1.2 percentage points lower than in November and two tenths below the national average.
However, core inflation, which does not include unprocessed food and energy products, reached an all-time high of 7.1% in December, a tenth over the national rate and seven-tenths over November.
Concern over the high price of food and beverages continues to increase. If we classify CPI goods and services in 12 groups, Food and non-alcoholic beverages increased the most, with an annual inflation rate in the Valencian Community of 16%, three-tenths higher than the national average, followed by Furniture and household items, with an increase of 8.4%; and Restaurants and hotels (8.2% compared to the national rate of 7.8%).
If inflation is broken down into 41 CPI subgroups, the year-on-year rate of change in the Valencian Community is higher than 10% in 5 subgroups. Once again, inflation in Food (16.3%) stands out, along with Tourist packages (14%), Non-alcoholic beverages (12.4%), Glassware, crockery and household utensils (11.5%) and Goods and services for the current maintenance of the home (10.4%).
Regarding headings, which is the maximum breakdown of data available for autonomous communities, the inflation rate in the Valencian Community has been over 15% in 11 of the 57 headings analyzed, of which foods such as sugar (45.9%), oils and fats (39.5%), milk (38.3%) and eggs (28.6%) were the ones with the highest increase in the last year.
The monthly price evolution reports of the Valencian Community, prepared by the Ivie, is included in the Price-monitoring Observatory of the Valencian Regional Government. In addition to these brief monthly reports, the project includes a database with a system of indicators based on the detailed information of the Consumer Price Index (CPI), which is completed with other price indexes in different areas such as industrial, housing, urban land, trade and tourism.  It contains data which is updated on a monthly basis for the Valencian Community, the rest of the Spanish regions and Spain.
24 January 2023