News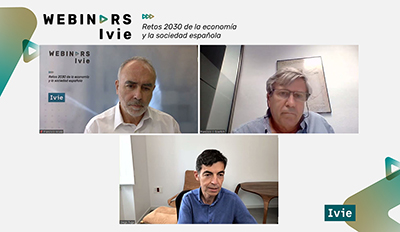 Digitalization and new technologies will improve the development of medium-sized cities, but will not revive cities with a declining population
Diego Puga and Francisco J. Goerlich analyze the development of urban areas versus rural depopulation
In the conference "Large cities, depopulation and economic growth in the 21st century: The perspective of Spain", which is part of the new  series of webinars organized by the Ivie, Francisco J. Goerlich (Ivie Researcher and Professor at the Universitat de València), stated that, although new technologies and digitalization have made teleworking easier and will continue improving the competitiveness of medium-sized cities compared to large cities, they will not halt the urbanization process that has been taking place in Spain since the second half of the 20th century. The population distribution in Spain is mainly concentrated in urban areas, while large areas of land remain uninhabited. In Goerlich's opinion, this process of urbanization has not ended and will continue to grow in the future. In 1900, 35.2% of the population centers were in functional urban areas and 64.8% in rural municipalities, while in 2020, urban areas account for 69.5%, compared to 30.5% of small municipalities.
In Spain, 40% of municipalities are at risk of depopulation, although only 2.3% of the country's inhabitants live in them. According to the Ivie Researcher, these towns have several things in common: increasing aging population, higher dependency rates (percentage of the population under 16 and over 65 out of the total number of employed people) and lower than average income per household. In Goerlich's opinion, these declining municipalities are not going to revitalize and gain population despite the development of new technologies, since urbanization is an unstoppable social phenomenon. However, "digitalization will contribute to widen out cities, with a greater development of medium-sized ones".
The Ivie Researcher acknowledged that there is a problem in access to public services in these unpopulated municipalities located mostly in the middle of the country, namely in regions such as, Aragon, La Rioja, Extremadura and other mountainous areas. However, he clarified that it may seem like a large problem from a territorial point of view, but, it is in fact small if the number of affected inhabitants is considered. For example, 55% of the Spanish population lives in a municipality that has a hospital and only 2% need to travel more than 45 minutes to reach a medical center. In any case, he insisted that policies to adapt to depopulation must be promoted in order to guarantee a minimum level of basic services that ensure the well-being of the inhabitants.
Diego Puga (Professor at CEMFI and 2020 King Jaime I Prize in Economics) also took part in the conference in which Francisco Alcalá (Ivie Researcher) acted as chairperson. Professor Puga focused on the main advantages of cities and urban areas, which attract large numbers of inhabitants, although he also explained some disadvantages. He stated that, although population density increases productivity and innovation which is reflected in more job opportunities and higher salaries, it goes in hand with heavy agglomeration, higher cost of living and more exposure to pollution and disease.
The next Ivie Webinar will take place on Thursday, July 8, at 5:00 pm via Zoom with previous registration, or by streaming on Ivie's YouTube channel.
Webinar 3: Training needs and employability in a changing environment: What is expected from Spanish universities? – Antonio Cabrales and Joaquín Aldás
4 June 2021