News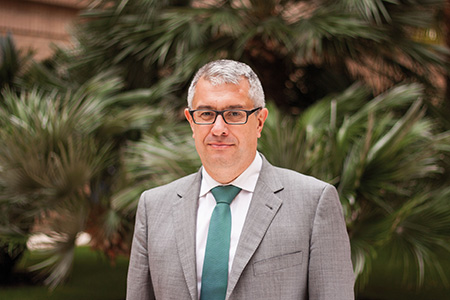 Joaquín Aldás will be the next Vice-Principal of Strategy, Quality and Information Technologies at the University of Valencia
Ivie researcher to form part of the new team created by Mavi Mestre, the first female Principal of the UV
The recent elections for the position of Principal at the University of Valencia returned the list of candidates led by Professor in Basic Psychology Mavi Mestre. This result presents a new goal for Professor of Marketing and Marketing Research and Ivie researcher Joaquín Aldás-Manzano, who as a member of Mestre's team will take up the position of Vice-Principal of Strategy, Quality and Information Technologies. Among the main targets for his term of office, Joaquín Aldás-Manzano highlights full digitization at the University of Valencia, leading the institution into the final stage of becoming a paperless university. He also aims to develop a brand differentiation strategy for the University of Valencia to achieve a more attractive, competitive position in the market and above all, ensure that decisions are guided by strategic reasoning, based on an information system that provides managers with the accurate data they need in each particular moment.
The other members of the new Principal's team are Antonio Ariño, Vice-Principal for Culture and Sport; Carlos Hermenegildo, Vice-Principal for Research; Juan Luis Gandía, Vice-Principal for Economics and Infrastructures; M. Adela Valero, Vice-Principal for Employment and Training Services; Elena Martínez, Vice-Principal for Equality, Diversity and Sustainability; Ernest Cano, Vice-Principal for Teaching Staff and Academic Planning; Jorge Hermosilla, Vice-Principal for Territorial Projection and Participation; Isabel Vázquez, Vice-Principal for Studies and Language Policy; Mª Dolores Real, Vice-Principal for Innovation and Transfer; Mª Elena Olmos, General Secretary; and Carles Padilla, Vice-Principal for Internationalisation and Cooperation.
For the first time in its 500-year history, the University of Valencia will be headed by a woman. Mavi Mestre obtained 52.98% of the votes in the second round of elections against candidate Vicent Martínez, who obtained 47.02% of the votes.
7 March 2018