News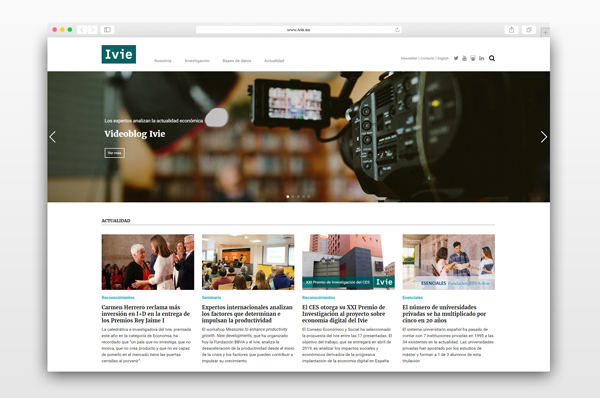 New website: more visual with new and improved content
Ivie experts analyze current socio-economic issues on our Videoblog section
The Ivie has updated its website with a new design to improve the users' experience with a more visual and practical display that helps to search and find content. The aim is to present the work developed by the Institute in a more attractive, but also, more simple and intuitive format.
In the new website, Ivie's projects are classified according to their area of research and the publications are listed by type (books, articles, reports, Essentials,…). Also, Ivie's 26 databases can be accessed directly from the homepage and a new section has been included which explains in detail the international projects in which the Ivie participates.
Images have become an important part of the new website, giving it a much more modern appearance. In this sense, our new Videoblog section, which through interviews with our experts analyzes current socio-economic issues, is proof of the importance given to the use of audiovisual resources in our new website.
In addition to these informative videos, the News & Events section collects news on activities carried out by the Ivie and its members, as well as upcoming events, information on our seminars and articles written by Ivie researchers published in the media.
November 6th, 2017