News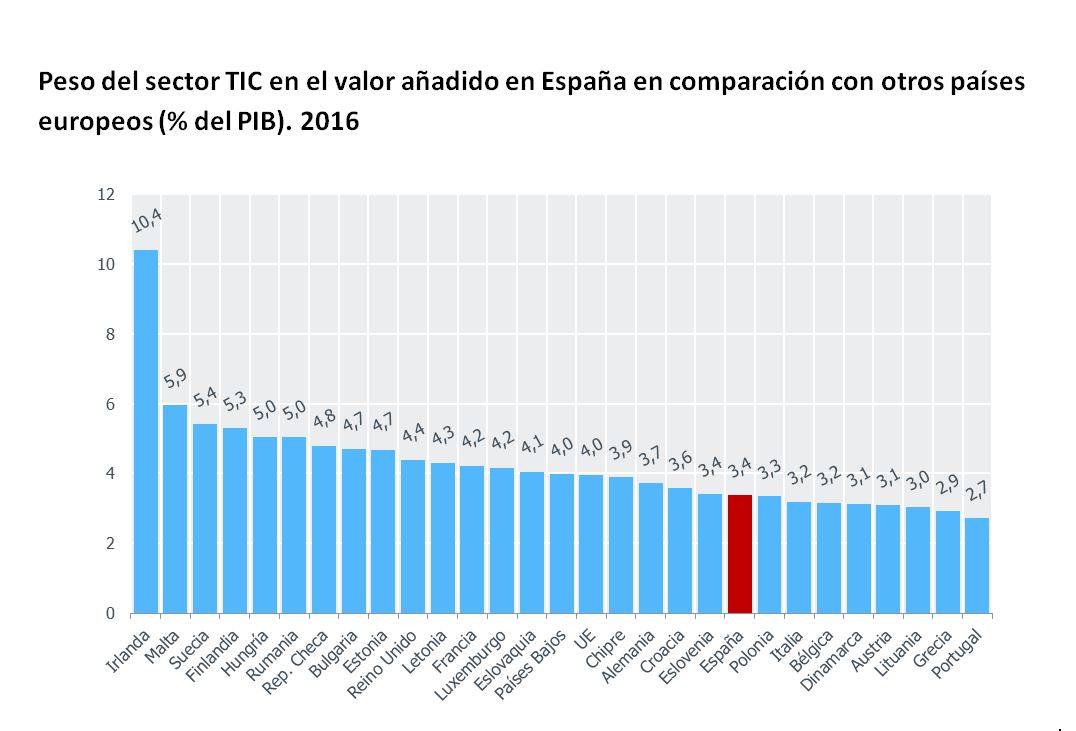 Spain is below the European average in ICT sector development, but has above average growth rates in employment and value added
The European Commission has just published the latest data available on the ICT sector developed by JRC and the Ivie which it uses to monitor the progress of one of its main initiatives, the Single Digital Market
Spain is below the European average in ICT over GDP (3.4% vs. 4%) and also regarding ICT sector employment (2.2% vs. 2.6%). Investment in ICT represents 12.9% of total R&D investment in Spain, a figure that is also below the European level (15.6%).
The data is based on the PREDICT (Prospective Insights on R&D in ICT) project, carried out jointly by JRC (Joint Research Center of the European Commission, EC) and the Ivie, which includes a database and a report that allow to monitor the progress of the Single Digital Market, one of the main initiatives of the European Commission.
The latest data available shows that, despite Spain's laggard position, in 2016 it had above average growth rates when compared to the European average, namely in value added (6.3% vs. 4.7%) and employment (5.5% vs. 1.8%). In addition, its growth in R&D expenditure was also higher than in the EU (14.5% vs. 2.1%), as well as its R&D research staff which slightly increased compared with the EU average (4.3% compared to 3.9%). On the other hand, total R&D personnel in the ICT sector increased by 2.6%, moderately below the EU's 3.3%.
In an international context, the United States takes the lead above the other countries because of its high ICT sector intensity and R&D expenditure (BERD) levels, but above all, due to its productivity.  Asian countries are more ICT intensive, while the European Union falls behind in ICT use due to emerging economies, particularly China.
The database generated through the PREDICT project currently covers the period 1995-2016, with some forecasted data for 2017 and 2018. The PREDICT project aims to monitor and follow-up the ICT sector in Europe and major world competitors, such as United States, Japan, China and South Korea, among others. The information included in the database is highly relevant, allowing an international and European comparison of value added, employment, productivity, business (BERD) and government (GBARD) expenditure in the ICT sector.
14 June 2019