News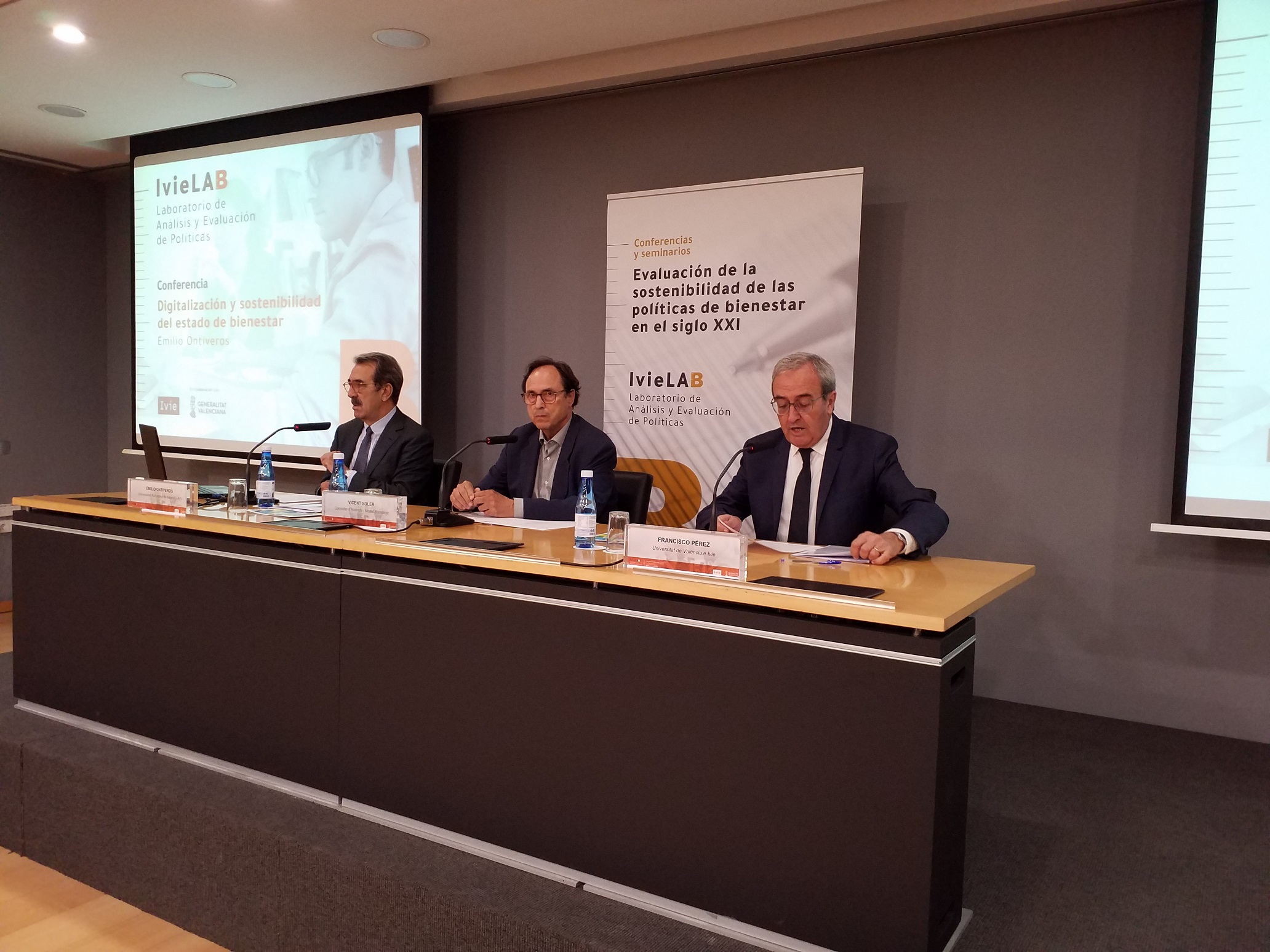 Emilio Ontiveros: "It is too soon to know the exact scope of automation, if it will take over jobs or simply complement them"
The President of AFI speaks about the impact that robots and AI will have on the labor market but emphasized that it does not necessarily mean that certain occupations will be entirely replaced by machines
The number of robots being used worldwide is increasing at a fast pace and some studies now conclude that many existing jobs will be automated. However, according to the President of AFI, Emilio Ontiveros, "the possibility of automation replacing some activities will not necessarily result in the total replacement of certain jobs" because, in his opinion, every job consists of multiple tasks, some of which can be replaced, while others cannot.  Therefore, automation would mean "displacement but not total destruction".
In the IvieLAB lecture "Digitization and sustainability of the welfare state in Spain", organized by the Ivie along with the Valencian Regional Government, Ontiveros emphasized that it is still too soon to know the effect that robots and Artificial Intelligence (AI) will have on the labor market, whether certain jobs performed by humans will be replaced or complemented by automation.
The sector where robots and other machines are most likely to serve as substitutes in activities humans perform is the manufacturing industry, whereas the technical feasibility of automation is lowest in services since in this case completely replacing humans with machines is more difficult. In addition, according to Ontiveros, "this tendency coexists with the evident decrease of the relative importance and use of traditional manufacturing in many developed economies".
Furthermore, substituting tasks or jobs will also have a financial impact on public funds since it reduces the government's tax revenues because fewer human workers mean fewer tax contributions, and the impact is even greater if we add to it the pressure to lower salaries that already exists. In addition, if public funds are not compensated, the welfare state will suffer setbacks and, along with it, the current unbalanced distribution of rent in some advanced economies.
The President of AFI also stressed the need for adequate fiscal regulation and control of businesses that provide digital services. He also warned of the dangers of international trade tensions that have their focus on information communications technology and can influence the distribution of technological power and, as a result, global access to these technologies.
20 June 2019
GALLERY