News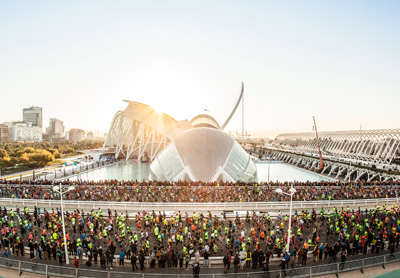 The 2017 Valencia Marathon generated 20 million in tourist spending, nearly €5 per euro invested in the competition
Survey participants rated the race positively, giving it an average score of 8.9 out of 10
Valencia Trinidad Alfonso EDP Marathon, held on 19 November 2017, produced an economic impact on the Valencian region of €12,740,563 in terms of income (wages and salaries, and return on GDP), a 38% increase compared to last year's edition. This impact is equivalent to creating and maintaining 431 new jobs per year, 23% more than in 2016. The results have been provided by the economic impact analysis report carried out by the Ivie, which was presented on 28 February 2017 by Ivie Researchers Joaquín Maudos and Joaquín Aldás, along with Elena Tejedor (Director of the Trinidad Alfonso Foundation) and Juan Botella (Sociedad Deportiva Correcaminos). Also present at the event were Maite Girau (Valencia City Councilor for Healthcare and Sports) and Sandra Gómez (Valencia City Councilor for Tourism).
From the total income generated, 69.2% corresponds to spending incurred by the participants and 30.8% to organizing expenses. In sum, the race organizers, Sociedad Deportiva Correcaminos and Valencia's City Council, invested a total of €4,234,021 in the Marathon. Every euro invested has resulted in €4.8 in tourist expenditure, amounting to €19,950,272.
The large number of runners who participated in the Valencia Marathon and 10K race, along with family or friends that traveled with them, from other Spanish regions (36.6%) and abroad (25.5%), contributed to the increase in tourist spending of 51% over last year. Other factors that explain this increase are: a rise in per day expenditure of 28% in the case of Spanish participants and 8.6% for foreigners; an increase in the number of people that accompany each runner (from 3 to 3.4 from other Spanish regions and 2.8 to 3 for foreigners); and an increase in the length of stay of foreign participants and accompanying guests from 3.4 to 4.4 days.
According to the survey carried out among 4,032 participants, 99% would recommend the Valencia Marathon to other runners, giving it an overall score of 8.9 out of 10 points. The highest-scoring aspects were the race course, crowd support, refreshment points and the runner's "goodie bag".
February 28th, 2018
GALLERY